Create your own ambiance or set the stage with high-quality lighting components and parts.
You'll find reliable lighting equipment and quality parts at Electronic Parts Outlet. Whether you're creating a large event or you have a smaller need, you'll find what your job requires within our inventory. Our helpful team is here when you need assistance with customer service you can count on.
Lighting equipment and parts
LED strips

Components

Powe

r supplies

LED drivers

Sockets / bulbs

Lenses / optics


Lasers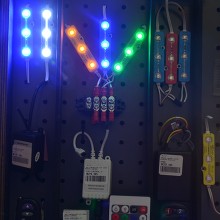 More than lighting
You'll find all of the standard capacitors, resistors, and semi-conductors here at Electronic Parts Outlet, but you'll also find some amazing things. Some examples of amazing things that have come and gone are a massive conveyor belt assembly, as well as film winding, stereo power amplifiers from movie theaters, large hydraulic rams, Grass Valley Video Production consoles, giant industrial speaker magnetizer, mailbox assembly for buildings, giant molex benchmaster crimp tool and a 1955 spectrum analyzer in working condition. Come in today to see what we have now. These are products that don't last long check in regularly!